I have had largely reasonable experiences with this car rental brand in Australia. Vehicles provided have predominantly been received in clean, tidy and good condition. Majority of hires have been smooth with one disappointing experience in the middle involving one of their licensees operating in Suburban Melbourne who I felt were dishonest and were also caught posting fake reviews to boot (Dandenong Thrifty / Lawrence Vic Pty Ltd).
Thrifty AU I note publicise about being 100% NRMA Motoring and Services owned along with pushing "Smiles all the way" marketing, however while many staff in a lot of my interactions were friendly, a few I found came across as dejected / depressed (including looking down at my feet when I was addressing them) at certain locations with some even found to be complaining about "upper management" between themselves upon me walking through the door and up to the counter. This together with the SEEK reviews for Thrifty Australia and Glassdoor (and having among the lowest if not the lowest employee satisfaction scores for a vehicle rental brand in Australia), indicates a probable internal culture issue with in their network.
Standard form contracts through their AU wide booking reservations systems need to be reviewed and updated to improve transparency and disclosure where some locations it has been noted have had to resort to using a ball point pen to cross out rates and manually hand write in the inclusive rate(s) before handing the agreement to me to sight and sign.
While Thrifty Australia have traditionally tended to be my go-to rental car brand when I am in Australia, this is almost entirely born from positive hiring experiences at home with their New Zealand Subsidiary, Motoka Rentals Ltd. I will admit that I am on the fence about continuing my regular custom with Thrifty in Australia.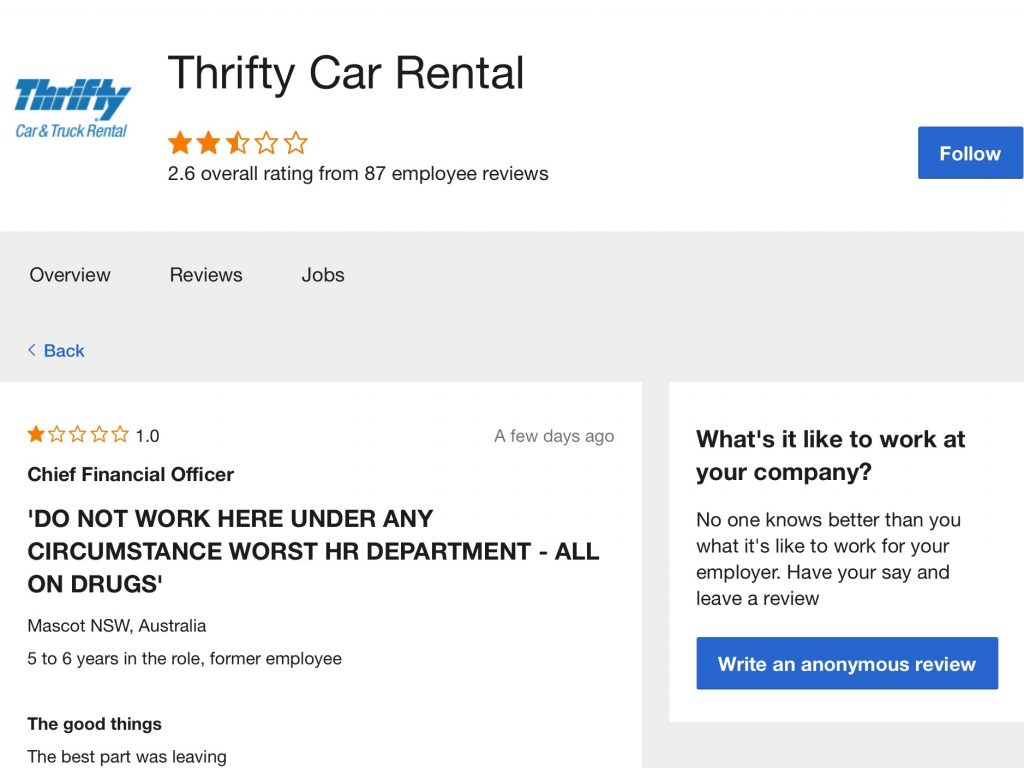 To be brutally honest, the issues identified above I don't believe are unique to Thrifty, The Car rental industry in Australia bluntly speaking as a whole needs a swift boot up the backside and a clean out. There is no doubt in my mind there are real issues that need to be looked at.
I note there is now some organizational body called the Australian Car Rental Conciliation Service setup by the AFIA, but appears to be a body set up by the industry themselves rather than structured as an independent and impartial body.  Personally, I can't help feeling this may be little more Than an attempt by the Industry in Australia to say to their government, "Hey, look at us, we're doing something!" and delay government intervention and naturally, most cases taken to the Australian Car Rental conciliation service, anecdotally, appears to side with their members as opposed to the member's customers.
Anyway, Getting back on topic, I think I will gradually start looking to rent from some of the smaller independent operators rather than subconsciously heading for the more recognised bigger brands next time when I am Australia. That said, I'll be carefully vetting each of them to see if they are trustworthy enough to do business with independent of the brand they may carry.
—
As a side note, NRMA Motoring and Services (The NSW equivalent to the Automobile association here in New Zealand) is an entirely separate business to NRMA Insurance, with the later being owned by Insurance Australia Group. IMO, most confusing and frankly a dilution of the NRMA brand.
—
Update: 14 July 2020 – Have decided to move much of the commentary around Australian Consumer Protections to another post here instead.