In short, shady rental car company behaviour does exist. This is in spite of people who are often quick to come to the defence of car hire companies through pointing out that the hirer raising a complaint on any given public forum is the one in the wrong and who simply didn't read and understand the agreement and/or contracts. From personal experience, this is certainly not always the case.
Ending up deciding to send Lawrence Vic Pty Ltd T/A Thrifty Car and Truck Rental Victoria a fairly stern and direct Email over the weekend firmly stating that due to their lack of disclosure, they are not entitled to retain the 3.5% Administration fee that they had applied to my account (over the top of the damage/repair charge from a small roo jumping into the side of the vehicle) back in 2018 and if they did not refund that portion of the administrative fee by the "close of business 5pm AEDT, Friday 19th March 2021", I would be instituting further recovery proceedings under Australian Consumer Law in order to have the amount in question returned back to me. To recap, in 2018…
There was no mention that a 3.5% administration fee was to be applied on top of the total incurred cost of the hire as per the 2018 version of the Thrifty Network wide terms and conditions or in any other written legal documentation. In this case, the administration fee was applied on top of the DRF / excess of 4000 AUD and was not disclosed to me verbally (nor in writing). The additional charges on top of the DRF came to an extra 185 AUD initially.
Original interaction with the accounts team back in 2018 was immediately hostile, with them pointing out the 3.5% Administration fee as a line item on the initial agreement (shown below).
When I pointed out that no where on that page, does it state how that this charge is ultimately calculated and no where does it state that it applies to the entire incurred cost of the hire, they responded with "Thanks for your feedback on disclosure"
While Travel insurance covered much of the other costs (including in my view, a fraudulently inflated invoice from R&V Panels), insurance did not cover the rental agency's arbitrary Admin and claim fees that is a matter of disagreement.
Anyway, following from the new E-mail I sent over the weekend, received a far more conciliatory E-mail today basically saying "Hope you are keeping well" followed immediately stating that they will refund my MacQuarie account the disputed amount, and with no questions asked. Certainly a different and more welcomed tone to the hostile interaction I had with the Lawrence Vic Pty Ltd accounts team back in 2018. However note that they've stopped short of actually apologizing or otherwise admitting fault.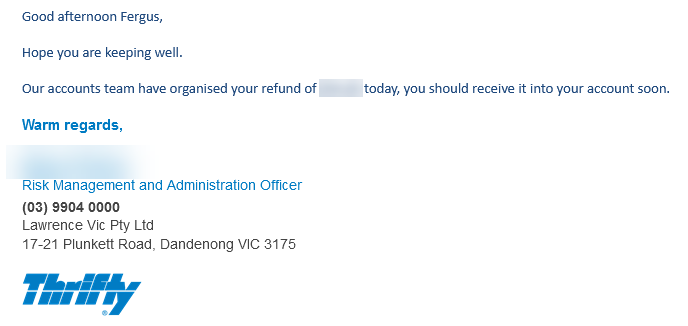 While it is certainly much appreciated to finally be receiving a refund…
It does raise the question as to how many other Thrifty Car rental Australia customers during the 2017 to 2020 period had their credit cards incorrectly charged for Admin fees that the car rental firm was not entitled to.
To be honest, I still consider this rather irregular overall. Suspect that if many people in the same situation as me started demanding the undisclosed portion of the 3.5% Admin fee back, some franchises and/or business units with in the Thrifty network could be pulled underwater due to the thin margins they operate under. It's disappointing to find that some Car rental companies seem to still rely on sticking on as many bullshit fees just to stay a float and then hoping not too many people challenge it.
Originally, combined with the above and the numerous fake reviews I discovered had served to contribute to my very low opinion of Thrifty Car Rental Lawrence Franchise overall. Admittedly, it's not in my usual nature to put my angry face on and become heavy handed + pointed like this (usually only reserved in dealing with cold calling boiler room scammers), but felt I needed to do it on this occasion, least unchallenged, they continue to engage in these practices.