Sorry, I am going to have to say "I smell a rat" given the chasm of expectation created by all the rave reviews / buzz –versus- my own actual listening experience of the UE Megaboom 3 Bluetooth Speaker.
Bought this speaker based on the swathes of glowing reviews all over the Internet including being swept up by the claims in their marketing material where they specifically mention "Way more boom" and "Thundering Bass".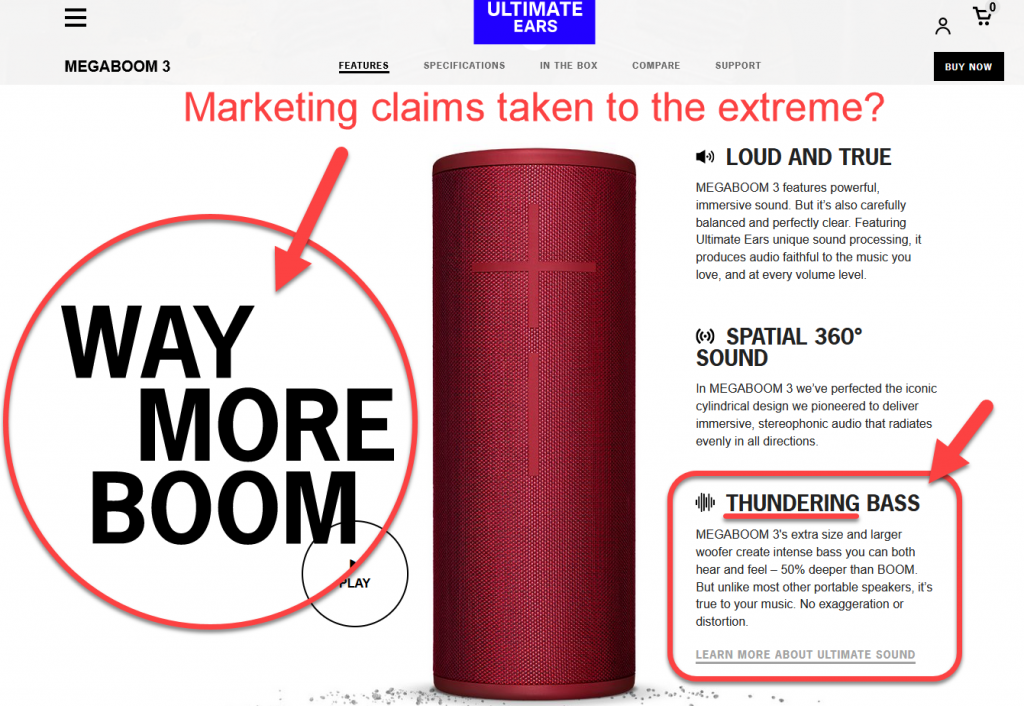 Got it back home and compared it to my old UE Boombox (from 2012/2013), and was sorely underwhelmed with the UE Megaboom 3's sound quality, in particular, the UE Megaboom 3's bass response compared to my old UE Boombox.
Downloaded the Official App and tried tweaking the equalizer. If you turned the bass up past the half way point, the speaker seems to reduce the rest of the frequency response range down into this muddy sounding mess. This is the sort of shenanigans I would expect from a cheap knock off speaker purchased from a flea market and not a recognised brand such as Logitech.
Even ran the speaker continuously for a few days thinking it might just need to be "broken in". On day three I did a final comparison as objectively as I could. Unfortunately no dice. It still sounded too much like a Clock Radio for my liking particularly given the 250 NZD I originally paid for it (and that was on special as well through Noel Leeming). Frankly, my old UE Boombox still blew the UE Megaboom 3 out of the water in terms of Bass response, Sound definition and clarity.
Returned the UE Megaboom 3 back to Noel Leeming thinking I got a dud. Listened to another UE Megaboom 3 they had on display and it was the same. Noel Leeming agreed to refund me in full back to my card. During the return/refund process, another customer in store overheard the conversation between myself and the store rep and jumped into affirm that he too returned his UE Megaboom 3 (at a different retailer) for the same disappointment a month ago.
When Logitech / Ultimate Ears makes claims such as "Way more boom" and "Thundering Bass" on their marketing material and it turns out to be no where near that of their old speaker, then to me there is a problem.
It does makes me wonder if all the rave reviews about the UE Megaboom 3 all over the Internet (including on Youtube) are possibly fraudulent / paid for (by way of an Astroturfing campaign)?  Have caught companies before faking their own reviews in the case of Thrifty Car Rental. We will probably never ultimately know, but I guess one can never be too careful these days.
Will look to drop a note to the Commerce Commission about this though I don't expect that the report will be taken any further other than being filed for possible future reference should ComCom receive substantially more reports of the same nature. Unfortunately, this experience has rocked my own trust in the "Logitech" brand built up over several years from the otherwise positive experiences I've had with their other peripherals.