Update: June 2019 – Thrifty Australian Head Office have also since been notified and have advised they have since started working with their Dandenong based Licensee, Lawrence Vic Pty Ltd, to gradually remove the offending reviews posted by franchise staff.
Have also been fielding the occasional E-mail from those purporting to be past employees of Lawrence Vic Pty Ltd, describing Working Conditions, Internal Culture issues, etc, however have chosen not to elaborate on those here in this particular blog post.
—
Topping off personally my single most disappointing consumer experience to date either side of the Tasman that I can recall… upon looking to place a review regarding my last hire experience with Thrifty Car Rental out of Mickelham Road, (Melbourne), discovered that the franchise owner along with certain senior staff of franchise operation Lawrence Vic Pty Ltd, had posted several of their own reviews whilst failing to disclose their commercial and/or employment connection to the business…
Lawrence (Vic.) Pty Ltd. T/A Thrifty Vic Car and Truck rental – Glenn Lawrence…
"Personally I think that these guys are the best rental company in Victoria. They always have great service a delivery on time with a smile. I would recommend them to anybody." 
– Source: Google Maps
(This has since been removed upon advising I had referred the matter to the ACCC and CAV)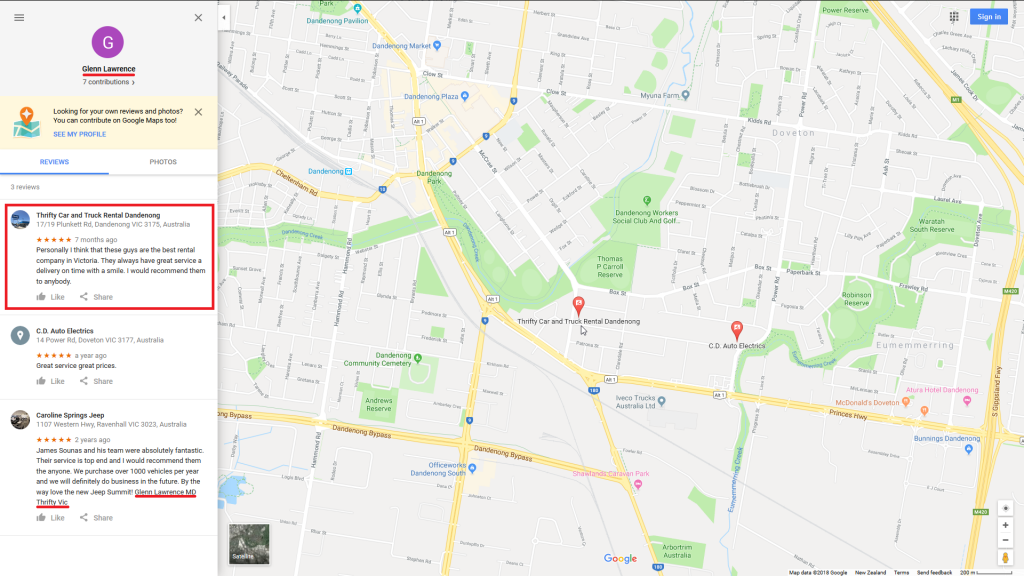 …Being the owner, of course he would think and say that about his own business. Some disclosure in his review would have been nice.
Lawrence Vic Pty Ltd's Chief Financial Officer, Peter Sowinski, was also discovered to have placed multiple 5 star ratings of a number of Thrifty Car and Truck rental locations…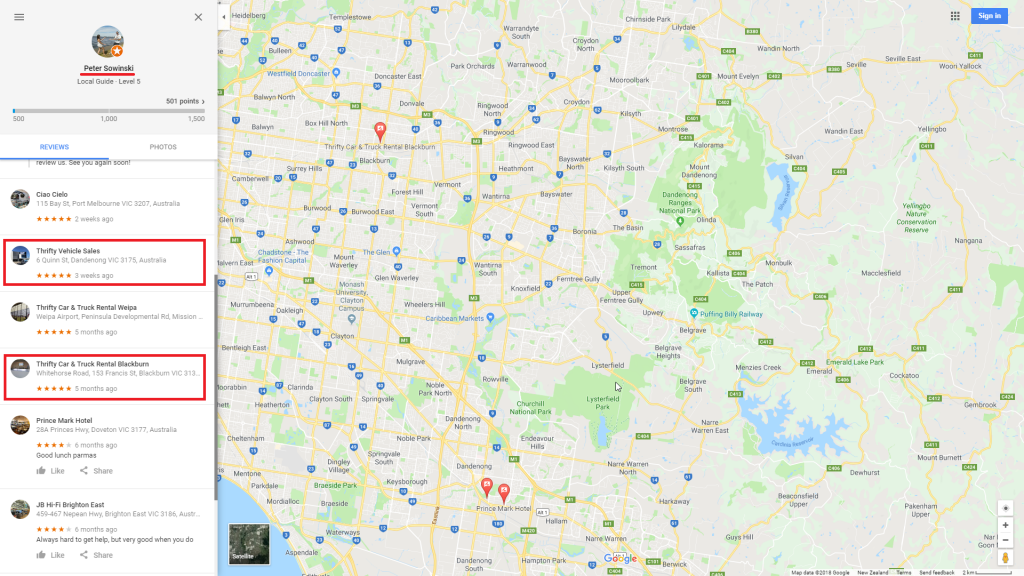 Some more ratings placed by the same individual. He has placed 5 star ratings on at least 8 (possibly more) locations owned by Lawrence Vic Pty Ltd along with 5 star ratings for a handful of other Thrifty Locations owned by other business units.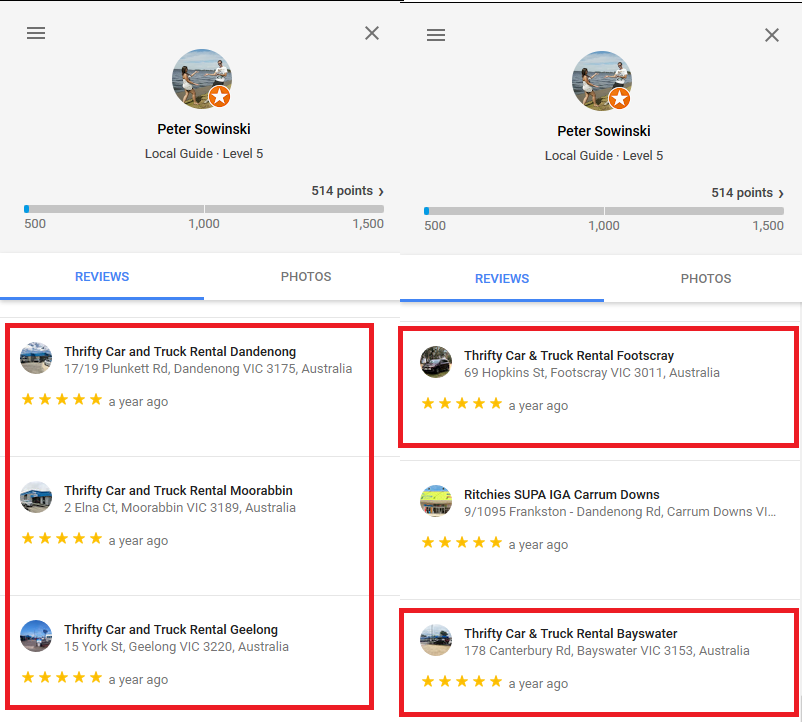 Also came across this… Known employees (confirmed upon glancing at their profiles) including the owner of Lawrence Vic Pty Ltd are seen posting fake ratings and reviews for Thrifty Vehicle Sales location that they operate in Dandenong. (These have since been removed in haste upon advising I have turned the matter over to the ACCC and Consumer Affairs Victoria)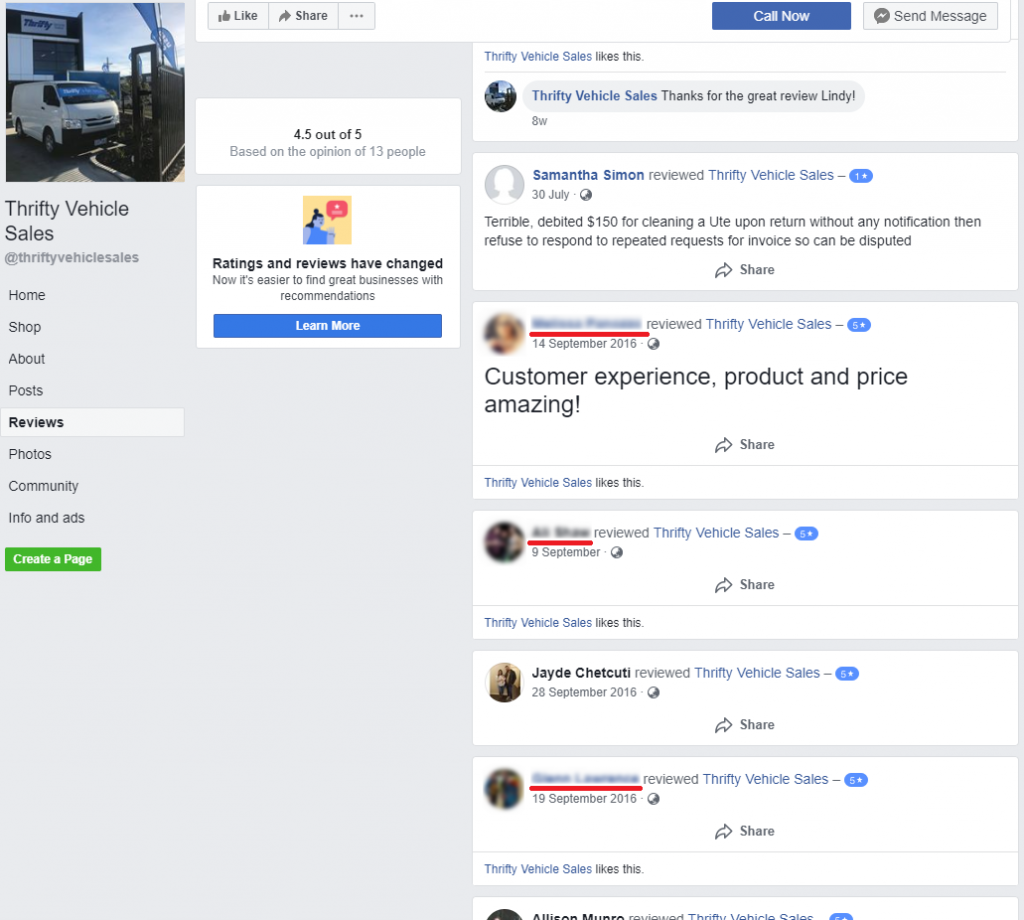 Furthermore, if you glance at the rest of the profiles from where the ratings and reviews have come from, quite a few of them I feel appeared (at least to me) to be from direct friends to one of the Staff in question (Profiles liking and commenting on posts from the staffer's profile and vice versa or more apparent, the staffer appearing on the friends widget of those profiles).
While friends of staff are well within their right to place a review if they are genuine customers, a potential conflict of interest is present and this should really be disclosed within any review they post as per the ACCC Guidelines in respect to asking friends to leave a review.
More Lawrence Thrifty staff posting positive reviews, this time for Thrifty Weipa. (While this may be a different business unit to Lawrence Vic Pty Ltd, they are still part of the Australian Thrifty Car Rental network and any such review should disclose this)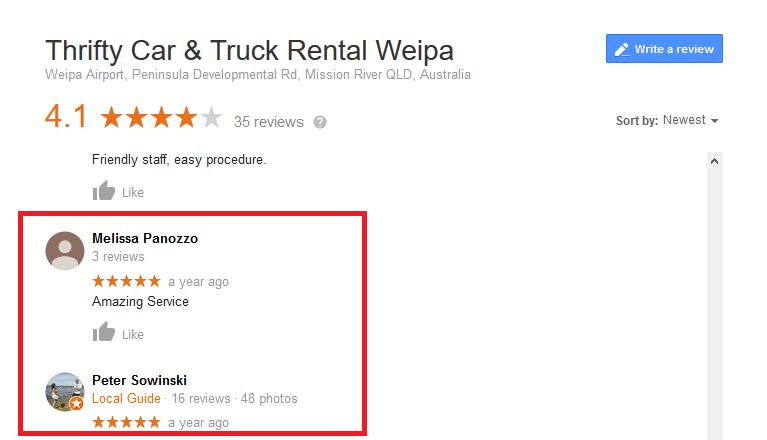 An older review from 3 years ago posted by another employee of Lawrence Vic Pty Ltd…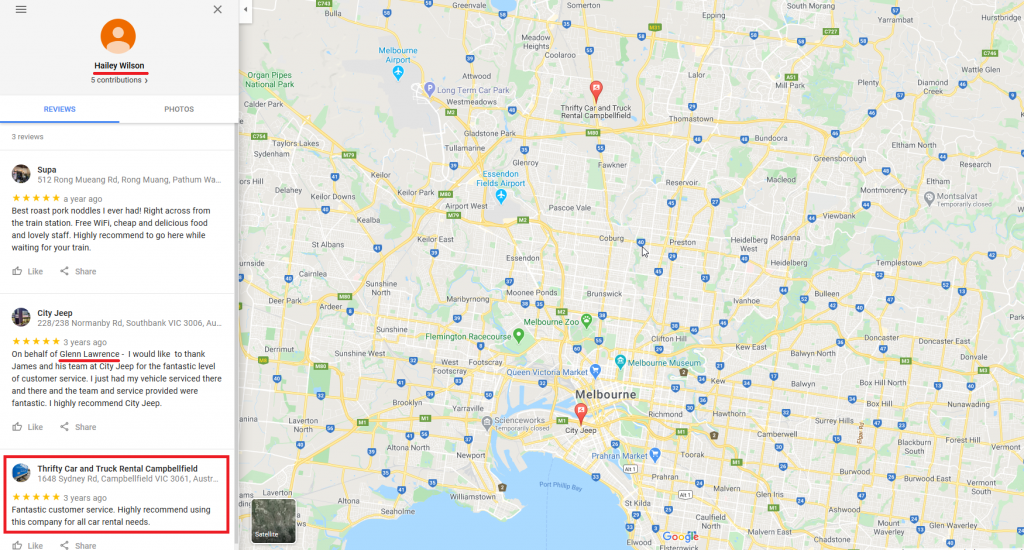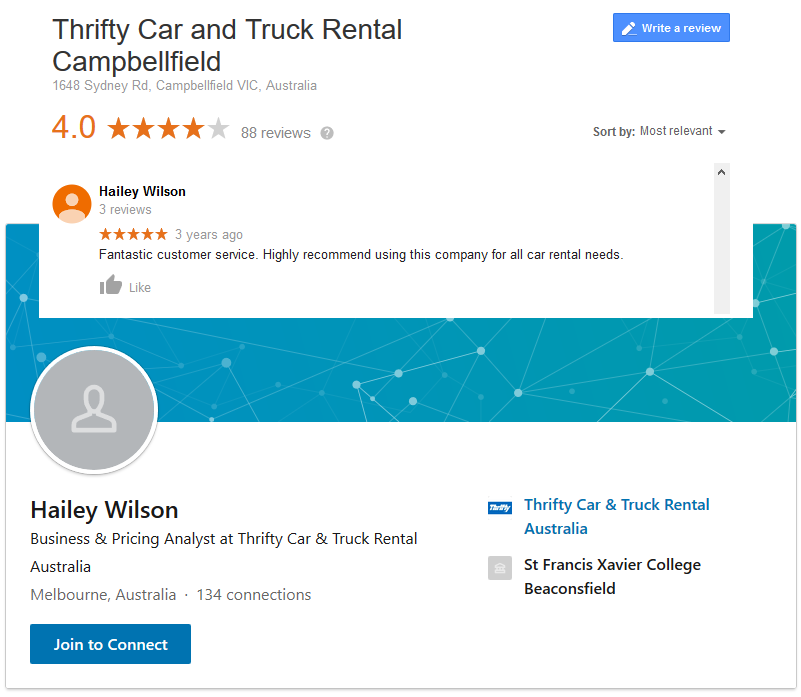 Here's a more recent glowing review for Thrifty Car and Truck Rental for Footscray…
(the statement "…team that works together to achieve their goals" caught my eye as it's not normally something posted by a genuine customer)
(The review below was quickly removed after I posted a temporary review publicly challenging it)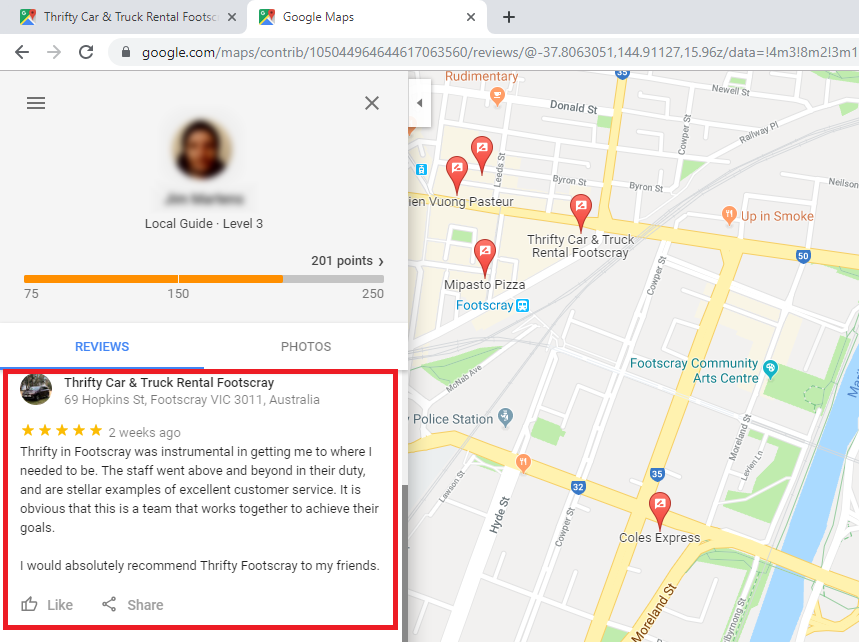 From then I looked at the reviewer's other review for Coles Express, a service station very close by Thrifty Car and Truck Rental Footscray where he mentions "…as part of my job for a rental car company…"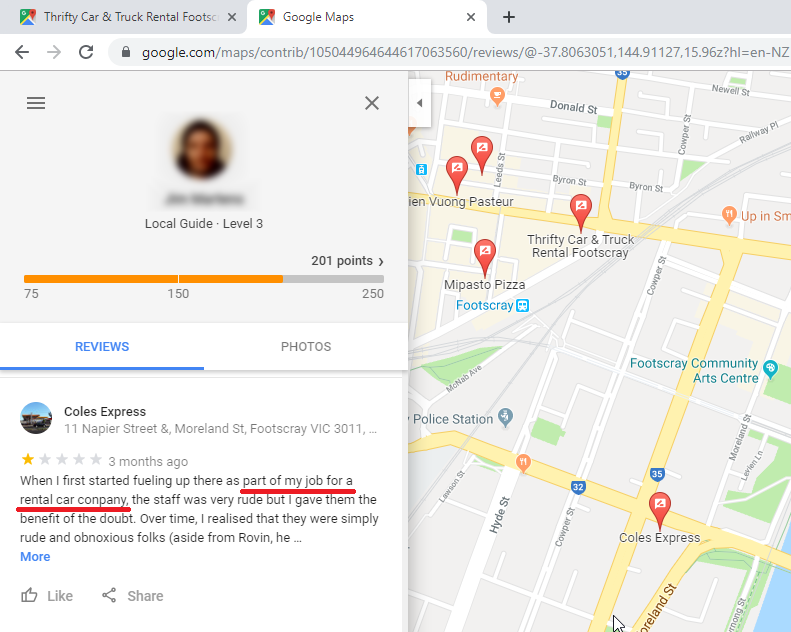 …All the above fake reviews were the ones that were known about and could be directly linked to Lawrence Vic Pty Ltd personnel.
The last fake testimonial above was only caught by virtue that the staff member in question had posted in another review mentioning he worked for a rental car company.
In my mind, it certainly raises the question…
How many of the other customer testimonials could also be fake or otherwise have been posted by Thrifty Lawrence Vic Pty Ltd personnel?
Wouldn't be surprised to learn that Lawrence Vic Pty Ltd management possibly encouraged their employees to engage in the practice particularly since the owner himself was seen placing at least a couple of his own fake reviews.
Reviews posted to Lawrence Vic Pty ltd. New location: Thrifty Coburg in Melbourne, Victoria, Australia. While an individual review from a profile where this is their only review is not sufficient by itself to raise a red flag, the ratio of such reviews do raise a red flag with me.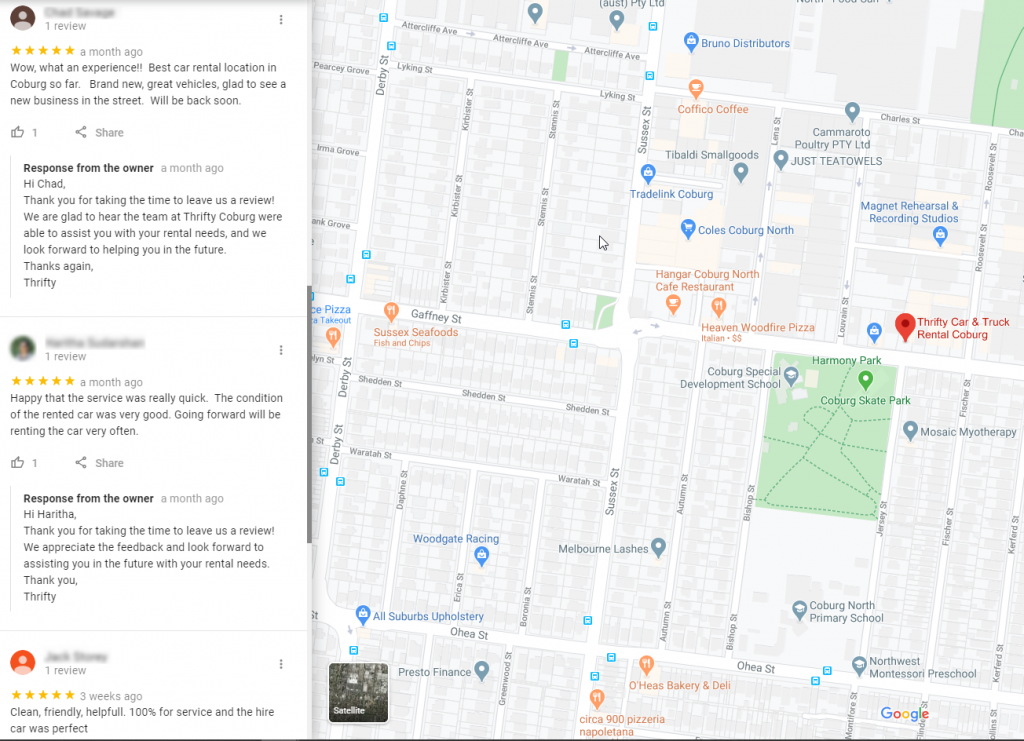 The reason why this looks fishy…
The ratio. Out of 6 total reviews, 3 were made by reviewers with only 1 review,
One of them being especially and suspiciously hyperbolic. "Wow, what an experience" is a sizable red flag to me as such reviews have in the past often been found to be fake upon my own investigation. How often would one be so over the moon renting from a car hire place?
A 4th review was made by a reviewer who has a total of 5 Google reviews to her name. However, out of those 5 reviews, 4 of them are for Thrifty locations all operated by Lawrence Vic Pty Ltd, another red flag…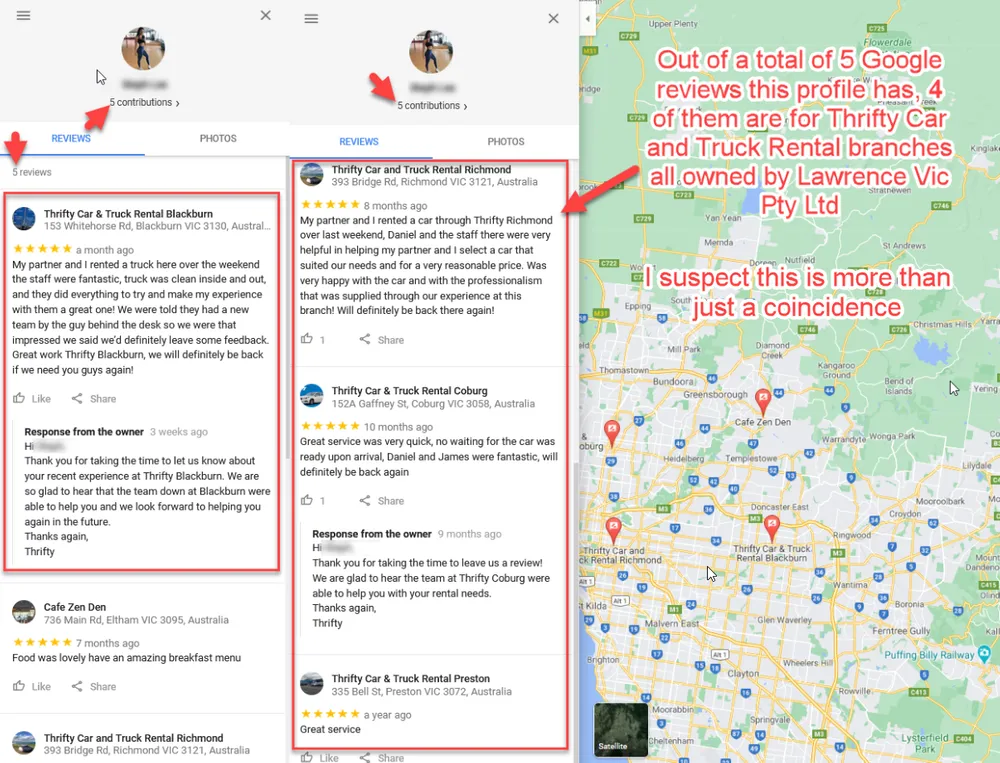 There is a Michael Nguyen who works as a manager for Lawrence Vic Pty Ltd's Thrifty Footscray location. Whether he is the same Michael Nguyen who posted this (in my view) rather anomalous, "written like an advert" review for Thrifty Vehicle Sales Dandenong is not able to be definitively confirmed as there are a ton of People called Michael Nguyen in the Melbourne Area, Never the less, the prose is very unlike a customer would normally write.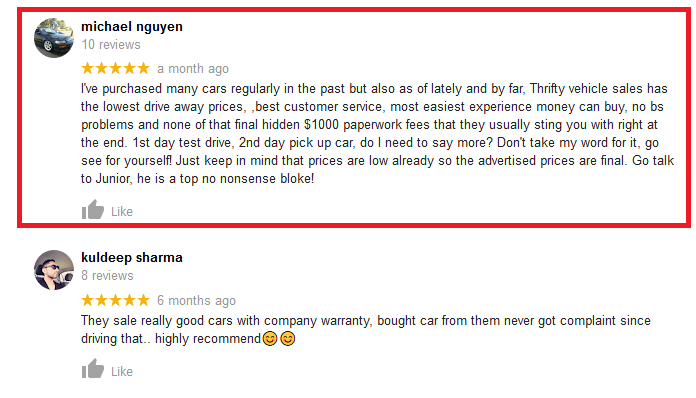 While I acknowledge that Lawrence Vic Pty ltd isn't alone in such antics (Far from it), Lawrence Vic Pty Ltd is the first business (that isn't an outright cold calling boiler room "wire" scam operation) who I have both personally had any sort of interaction with and seen engaging in the posting of falsified testimonials.
—
Overall my hire experience with Lawrence Vic Pty Ltd was far removed from my usually smooth hire experience under the Thrifty brand in Australia. I will admit to letting my guard down in this instance due to trust built up from multiple positive hiring experiences before hand under the Thrifty brand. Issues with the Lawrence Franchise include…
Failure to disclose upfront the full fee structure in their written legal documentation in respect to minor damage caused by a small Roo jumping into the side of the vehicle. An undisclosed and non-specific 3.5% Administrative fee was levied on top of other Administrative fees and was not disclosed to me verbally nor in writing. (I understand as of September 2020, Thrifty Australia have now rewritten their Terms and Conditions to better disclose this to cover their network of outlets and franchises, however, was not disclosed as per their terms and conditions as of 2018 at the time of the hire)
Note March 2021: Have since had a large portion of that refunded back to me.
Upon contacting the Licensee's HQ at Dandenong thinking that these matters would be easy to clarify, I was instead met with a defensive attitude from one of their accountants (who I now learn has since left the organization) with the chain of communication abruptly closing at "Thanks for your feedback on our disclosure" with no further attempt by Lawrence Vic Pty Ltd to explain or otherwise point out where in the written agreement these charges applied.

Failure to provide a copy of the agreement at initiation of the hire requiring several follow ups. (This doesn't appear to be an isolated incident with Lawrence Vic Pty Ltd.)
The vehicle, A Hyundai Accent hatch ran rather poorly compared to the same Make/model I rented several times from other Thrifty branches in Australia and New Zealand. The service sticker also indicated the vehicle was 2 months over due for it's service. Anecdotes from Employees and Fellow customers a like indicate that they regularly cut corners on servicing.
Upon eventual receipt of the above, discovered a break down add on I never requested and which I strongly believe was snuck on by the RSO under IMO obvious pressure by his bosses to meet his monthly sales target. The RSO agent I strongly believe drew my attention away from it during the walk through of the said agreement. I will take this on the chin this time, but this is something that prospective hirer's must watch out for. Don't be too trusting in "the brand". Renting from one Thrifty branch (in my case, several different Thrifty branches) does not mean they do things the same way as any other Thrifty branch.
On presenting a New Zealand Driver's license, Lawrence Vic Pty Ltd demanded 2 x Australian Phone numbers and an Australian Address. No where was this stated anywhere on booking nor the unified thrifty.com.au Website. This is different from Thrifty Melbourne Airport and Thrifty Melbourne city (Spencer st) where no such requirement exists.
Their employment ads suggest a rather Sales driven culture I feel ("…totally focused on achieving targets and budgets") and this has been emphasized in Lawrence Vic Pty Ltd's ads far more than for Front line roles advertised by other Vehicle Rental agencies (operating under the Thrifty banner or otherwise) I feel.
I have also since dropped a note to the Australian Competition and Consumer Commission (ACCC) and Consumer Affairs Victoria (CAV) to let them know of Lawrence Vic Pty Ltd's conduct.
If would be fair to say that I hold the management of Lawrence Vic Pty Ltd personally responsible for the matters arising out of my hire with them. Nor have I ruled out possibly taking out a case against Lawrence Vic Pty Ltd in the Victorian Civil and Administrative Tribunal (VCAT) when I'm next back over the ditch on business.
To date, this remains by far and away my single most acrimonious experience as a customer to any business either side of the Tasman. I would expect to see these sorts of business antics 20 years ago in Mainland China (when things there were less developed) and not in a country such as Australia.
While I have since continued to rent through other 'Thrifty' branded business units in Australia without experiencing anywhere near the same sorts of issues, my continued custom with Thrifty as a brand is now under review (particularly so now that NZ AA and Thrifty Australia between them seems to have ended the hire car deals for us NZ AA Members).
In a nutshell…
I consider trust extremely important in any transaction I undertake and Lawrence Vic Pty Ltd through their conduct I feel have completely failed to demonstrate this.